Alu-Rail™ Aluminum Railing System
AMS Alu-Rail™ Railing Systems are engineered to be simple and versatile. Our Alu-Rail™ Aluminum Deck Railings are custom designed and pre-fabricated for easy installation on practically any deck application. You can also augment your aluminum railing with stainless steel cable, tempered glass, and aluminum picket infill options. The perfect solution for use on balconies, decks, stairs, windbreaks, terraces, gates, privacy screens and more. To find the perfect Alu-Rail™ aluminum deck railing for you, contact us today to learn more about our beautiful aluminum railings with stainless steel cable, tempered glass, or aluminum picket inserts.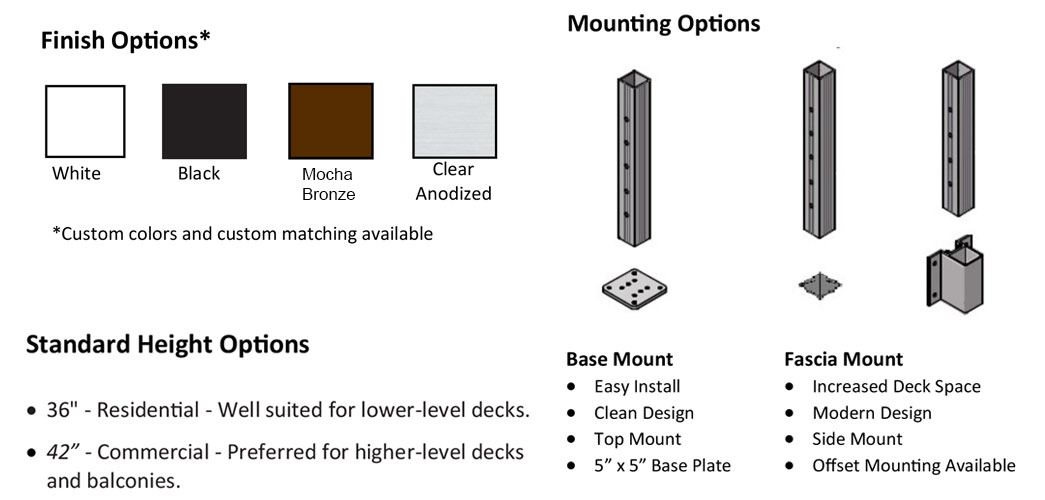 AMS Product Lineup
Get In Touch
Mailing Address:
7012 27th St. W.
University Place, WA 98466
Phone:
(253) 272-9344 Direct
(888) 372-9344 Toll Free
(253) 627-3843 Fax
Email:
American Metal Specialties provides ready-to-install railings, cable assemblies, and fittings for contractors and do-it-yourself building enthusiasts.
We serve the entire U.S. including Alaska and Hawaii and can arrange shipments internationally.
Download and print a PDF version of our quote sheets or contact us with any questions.